About Us
Nohoch Che'en Caves Branch Archaeological Reserve is made up of an extensive network of limestone cave systems north of Belmopan City is super-popular for Nohoch Che'en cave tubing and Nohoch Che'en zipline. The Caves Branch River flows through nineteen caves, providing the ideal conditions for tubing through on a inner tube or allowing for exploration of side passages that leads to other cave systems, such as the spectacular Crystal Cave.
The basic 1½-hour tour cave tubing includes a jungle hiking and a gentle float through the caves, witnessing (with the help of your headlamp), schools of eyeless cave fish, stalactites and strange Maya paintings high on the cave ceilings. The cost  includes life vest and helmet, and the tubes are linked together from time to time for safety reasons. Tours can be customized to explore further into the cave system – the ultimate full-day tour includes Nohoch Che'en Cave Tubing, Zipline, and Xunantunich Mayan Ruins. We have put together some of the most exciting Belize private tours to give you a full day of fun adventure.
Your Private Tour Guides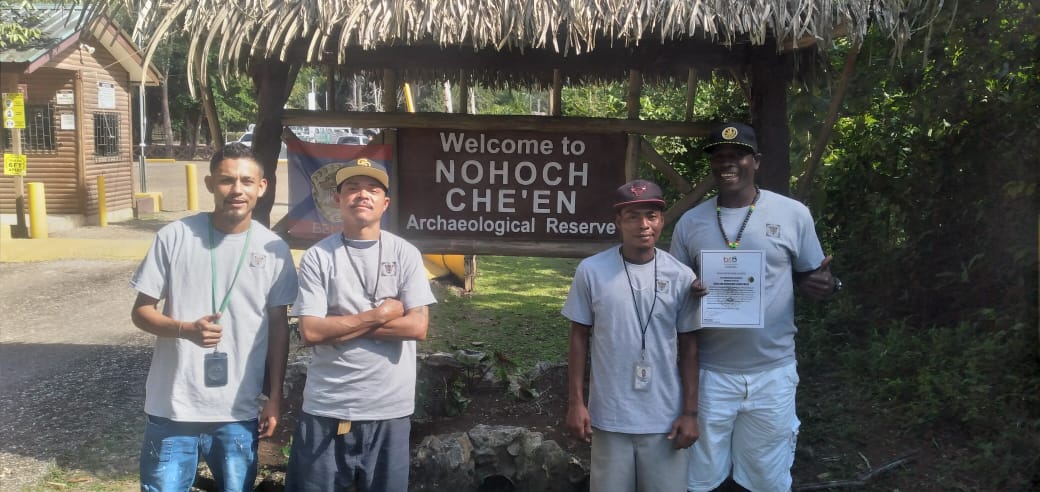 Team Name: "Mean and Dangerous Adventures"
We, "Mean and Dangerous Adventures" are your private tour guides. We offer private jungle tours at "Nohoch Che'en Caves Branch Archaeological Reserve" located at Mile 37 on the George Price Hwy, Cayo District. THE ONLY CAVE SYSTEM WHERE CAVE TUBING IS DONE IN THE COUNTRY OF BELIZE. We were all employed by large tour companies as freelance tour guides. We now offer cave tubing, zipline, jungle atv, cave kayaking, and much more. We specialize in Belize Cave Systems, Archaeology, Ornithology, and Indian History, making us one of the most versatile guiding team in Belize. We offer our tour services to all visitors in Belize. We also offer our services to cruisers docking at the Belize City Cruise Port.
We start to dispatch our cave tubing and zipline tour from 8:30 in the morning at "Nohoch Che'en Caves Branch Archaeological Reserve." It is required that you call the following to make an appointment for our tours. We request a call in advance so we may space out all of our tours due to the policy of social distancing. The number to call is as follow:
Most of the combo tours require us to pick you up.
Guests staying in San Pedro, Ambergris Caye, and Caye Caulker need to board one of the early water taxi to Belize City. The boat ride last approximately 1.5 hours. One of our representatives will be at the water taxi terminal in Belize City with a sign that reads your name.
Cruise ship passengers need to off their ships as soon as possible. If you can board the first tender, that will be great. When you are off your tender, walk to the main gate of the cruise port and exit to the street. Take a right turn and walk 2 minutes to the Light House. The walk to the Light House is a 2 minutes walk. You will see your tour guide with a sign that reads your name.
We offer strictly private tours. This means that you will not be joined by any other groups. It will be only you and your tour guide (s) in the van.
When driving to "Nohoch Che'en Caves Branch Archaeological Reserve" ask for "Mean and Dangerous Adventures", our team name.